The new Schüco ASS 77 PD sliding door system (Aluminium Sliding System, 77 mm basic depth, Panorama Design) stands for excellent thermal insulation and maximum transparency and comfort. Winner of the GOLD iF product design award 2012 and the 'best of the best' reddot design award 2012, this system has a highly impressive panorama design and 3 system variations with different thermal insulation values. In addition to the familiar NI (Non-Insulated) and HI (High Insulation) versions, there is now also an SI (Super Insulation) model. Additional new developments offering even greater design freedom to be showcased at BAU 2013 include the triple-track outer frame, the 90° corner and a manual opening variation.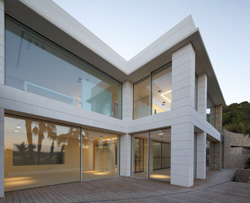 The new Schüco ASS 77 PD sliding door system allows for the narrowest of face widths – just 30 mm in the centre section. However, the absolute highlight is the vent frame, which can be concealed due to the new mechatronic fittings technology. This means that a clear view of the outside through the generously dimensioned "glass walls" is not obscured by invasive profile face widths.
The high insulation Schüco ASS 77 PD.HI sliding door has a thermal transmittance value of Uw = 1.1 W/m2K. The super-insulated version, Schüco ASS 77 PD.SI, records a thermal insulation value of Uw ≥ 0.84 W/m2K. This is achieved with a unique outer frame design made from glass fibre-reinforced plastic.
The handle-free panorama door can be opened, closed and locked at the touch of a button on an external control panel, using a wall-mounted switch or an iPad. Another option for convenient operation is the use of remote control. On request, the sliding system can also be coupled with a fingerprint access control unit, so that an authorised group of people may always access the house when the doors are locked. A concealed drive and locking system is integrated into the profile and moves vent weights up to 500 kg quickly and silently. The vents can accommodate glass thicknesses of up to 60 mm. They glide on innovative tracks that are anchored in the ground together with the threshold to provide easy access. The maximum vent width is 3200 mm, the height 3500 mm. Different opening types are available based on double-track and triple-track outer frames (for ASS 77 PD.HI from 2013).
In 2013, a new type of mechanical fitting will be offered for the HI model in conjunction with additional profile variations, in order to allow mechanical opening and closing of the vent units. Only the stainless steel handle is visible; it is incorporated into the panorama design and reinforces the straight line profile geometry of the vent frame.